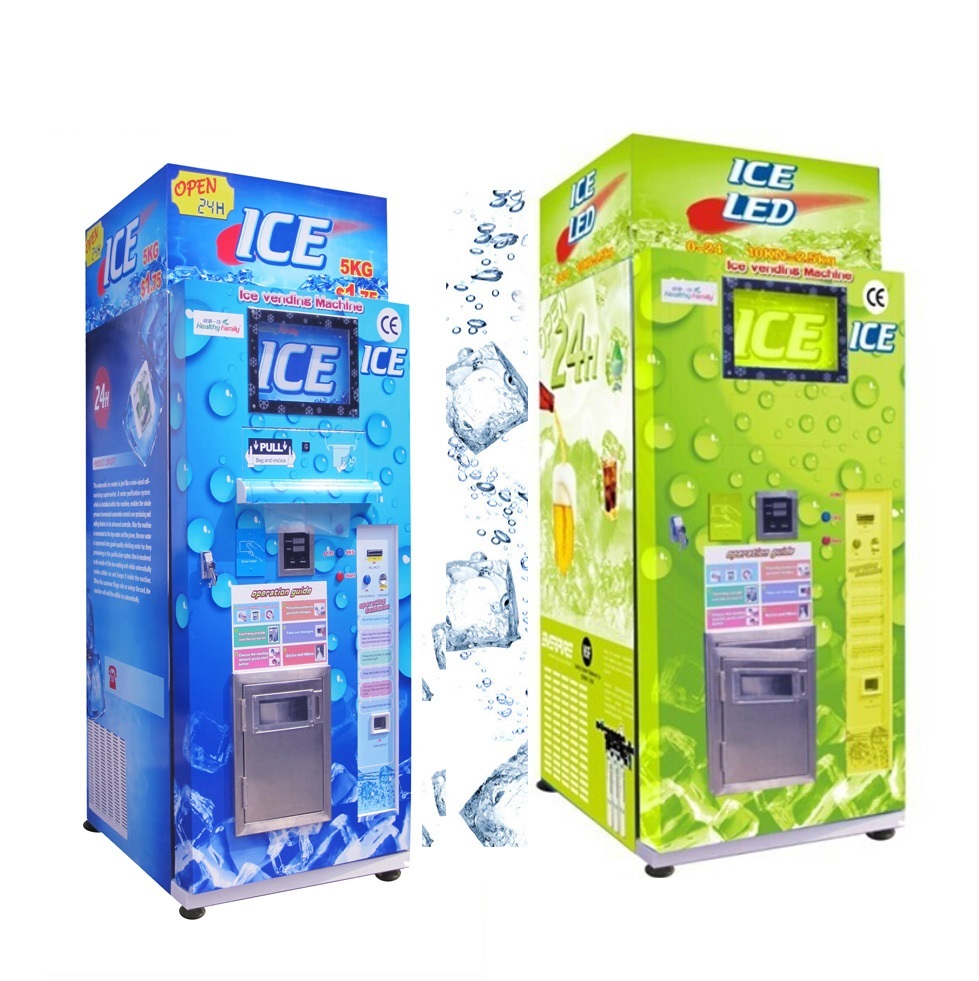 Power supply: AC380V/50-60Hz
Consumption: 5kw
Rated current: 12.9A
Environment temperature: 2-38℃
Working temperature: 20℃
The capacity of ice 20℃ temperature: 900kg/24H
Size of the ice cube: 2.2*2.2*2.2cm
The capacity of ice mold space: 1080 space
Spec of compressor: 5P
Refrigerant: 404A
Size of bulk ice tank: 800*800*1050mm
The capacity of the ice tank: 200kg
Material: Stainless steel 304
Water source: Municipal tap water
The pressure of raw water: ≥0.1mpa
Capacity of coin box: 3000pcs
Dispensing ice: Bag/bin
Bag size: 39*60cm
Bag thickness: 0.08mm(single layer)
Range of bag ice: 1-5kg
Ice dispensing speed: 2s/bag
The capacity of inside storage bag: About 300pcs
Machine size: 1000*1200*245mm
Feature:
1. Fully automatic water purification,ice-making, ice vending and calculation of ice amount and price, really realize the fully automatic vending.
2. LED display screen, online display sum, and balance;
3. Make use of leading PC electric controlling system for automatic water filling, water purification, automatic ice-making, automatic machine stopping for full of ice, and pause vending, flashlight and reject putting in coins when lack of ice; automatically lock of ice vending door and unlock when consume.
4. Payment methods:coin +bill +ic card.
5. Turnover can be checked, independent counting for coin and card.
6. High security, security and against the destruction. Body material;2.0mm thickness cold-rolling sheet, surface high-temperature electrostatic spraying. Makes use of food-grade 304 stainless steel for all the ice –contact parts, and the world brand Japanese compressor(CE certificate).
7. The conveying device makes use of famous-brand assembly from Taiwan to sure the reliable performance.
8. The computation part is the patent of our factory which is under the protection of intellectual property rights. flexible and adjustable ice amount and unit price setting.
9. The ice-break device is installed inside the ice tank so as to ensure ice vending smoothly; Patent ice-vending structure ensures high efficient and convenient ice vending.
10. Ice tank foamed from 5cm thickness polyurethane have good heat preservation function so as to ensure ice cube will stay for a long time without melt.
11. AdoptGerman SIEMENS/GSM module to realize the machine remote management: automatic message notification when failure; check turnover and running status by message.
12. Adopt Taiwan FOTEK photoelectricity switch induction technology to check ice position, automatically stop vending when lacking ice.
13. Adopt American EVERPURE filter to produce sanitary edible ice cube.
14. Ice vending door adopts close and anti-dust door, safe and sanitary. Automatically lock when no consumption, and unlock after flinging coin.
15. Patented design to dispense ice, agitator installed inside, to ensure dispense ice smooth, fast, efficiently.
16. The ice storage bin is made of 5cm thick polyurethane foam, has good thermal insulation property, can stop the ice cube dissolving in a long time.
17. GSM global remote management system (optional function).