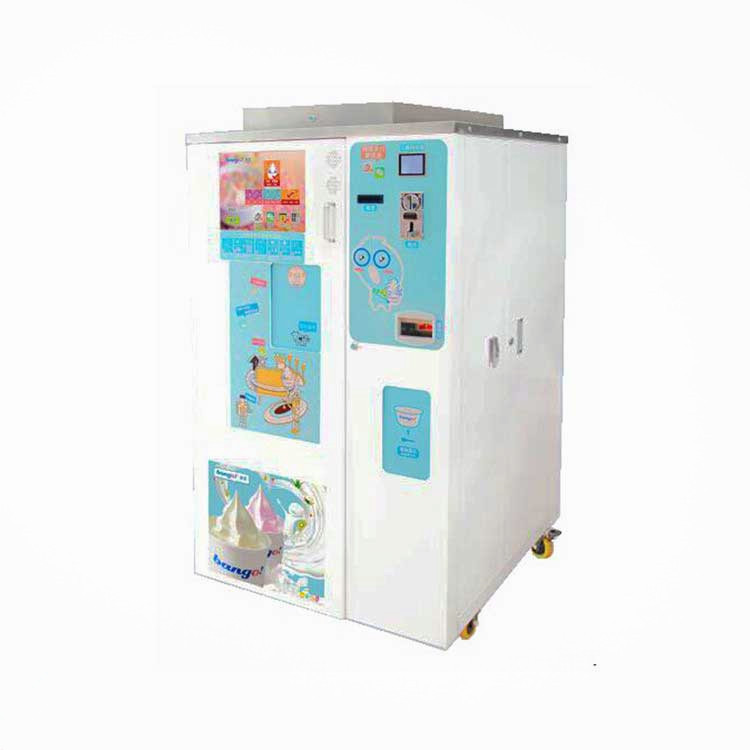 Application: Produce soft ice cream, frozen yogurt
Flavor: Single flavor ice cream with 3 types topping
Power: 220V50Hz 1Phase; 220V60Hz 1Phase
Condenser: Air-cooled
Topping dispenser: 3 different types
Cup storage capacity: 2 cavings,each stores about 50pcs bowls(50z)
Mix hopper: 1x13L
Freezing cylinder: 1×2.8L
Function:
1. Pre-cooling system maintains mix below 5ºC during auto & standby modes.
2. Air pump delivers mix with certain amount of air to the freezing cylinder.
3. Mixer keeps mix uniformity in the hoppers.
4. Counter allows the operator to view number of servings dispensed.
5. Heat-treatment (3 phases to destory bacteria and retard spoileage: heating; holding; cooling).
6. Defrosting (easy cleaning; no waste; no mass).
7. Disinfection (ensures sanitation).
Features:
1. Coin or Token operated.Accepts 3different denominations of bill and 2 different denominations of coin,but only can change coin or 1 single denomination .
2. Ultra-quiet technology: low noise of about 50-55 dbs.
3. Remote-monitoring system allows the owner to have the latested operate and sale situation of the ice cream making machine
4. Tablet designed control borad: temperature, date, time display.
5. Machine controlling system language:English & Chinese
6. Products can be kept fresh at night under safe temperature.
7. Pressure protect for the cooling system.