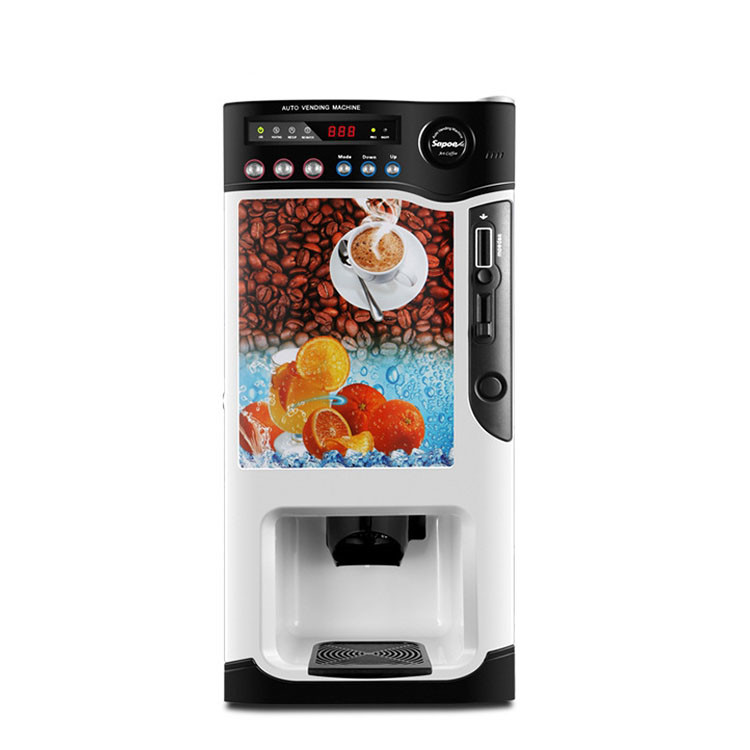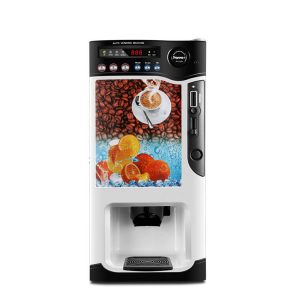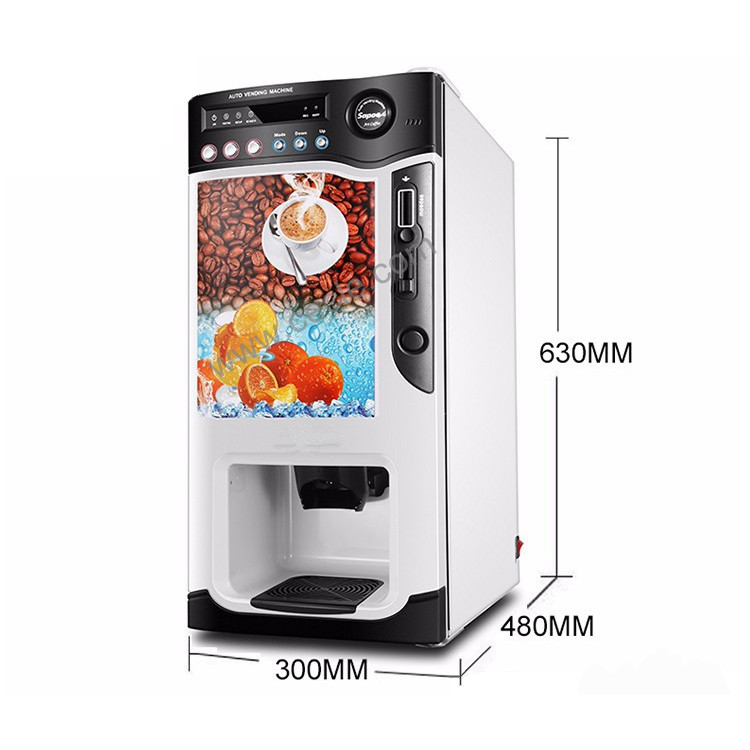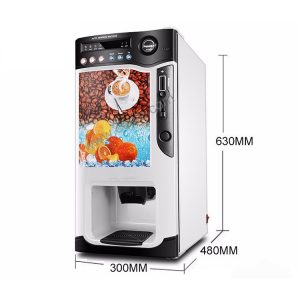 Power supply: AC 220V 50/60Hz(Heating:820W Cooling: 150W)
Available coin: Intelligent coin recognizer
Drink supply: 3 hot drinks, 3 cold drinks
The capacity of raw material bucket: 1600g*3
Cup size: 73-74mm, 6.5oz or 8oz
Cup quantity: 80pcs
Water supply: Inner water bucket of 4.3L, and placing purified water tank of 18.9L on the top of the machine
The capacity of normal temperature water tank: 1.6L
Colour: Optional
G.W.: 24.5kgs
Size: 300*580*630mm
Optional accessories:
1. Connected with the water supply of building
2. Bottom water pump
3. Base cabinet
Working process:
1. The choice of their own way to the machine water injection;
2. The raw materials into the raw material box;
3. The raw material box accurately fixed in the box;
4. Open the machine side of the power switch "OFF>ON";
5. Set the setting switch on the inside of the machine to the "ON" position;
6. According to personal preferences for a variety of parameter settings;
7. After the completion of the parameters set, set the switch back to "OFF";
8. Waiting for the work light of green, you can enter the normal working condition;
9. Gently press the panel on the operation of the button, a cup of delicious drinks immediately presented in front of you.
Feature:
They're a purified water tank in the top of the machine;
Microcomputer automatic control, easy and simple operation;
Environment-friendly raw material bucket with great capability;
High rotary speed mix system:
This system can fully mix raw material and water, make the foam of drink more delicate and taste purer;
The automatism cup-dropping:
The automatism cut-dropping can discharge the cuts that can be either standard cuts or self-provided cuts automatically and continuously;
The cups placed above the water tray. Water will not leak out;
Large capacity water receptacle. Do not worry about the water will leak out;
You can choose to use standard paper cups or your own cups. The capacity of paper cups holder is eighty cups;
The recognizer system of many countries coin. The setting of the unit price. Confirmation of the sales quantity.