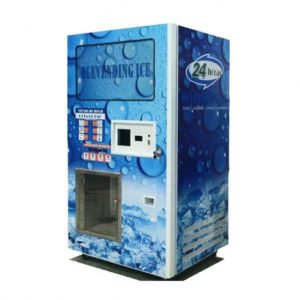 Voltage: AC 220-50Hz/AC 110V-60Hz
Total power: 3kw
Current rating: 220V 13.7A/110V 27.3A
Production capacity: 450kg/24h (under 20℃)
Ice cube size: 2.2*.2*2.2cm
QTY of ice cube mode: 540
Type of compressor: 3P
Refrigerant: R404A
Ice making type: Circulated spray
Storage tank material: SUS 304
Source water: Tap water
Source water pressure: More than 0.1Mpa
Inlet water flow rate: More than 30L/H
Pure water production: 400GPD/600GPD/800GPD/1300GPD/1900GPD/3500GPD
Water vend change type: By flow
Vending function: IC card/Bill/Coin/Give change
Ice vend type: Bulk ice/bag ice
Bag ice production: Automatic packing, counting weight, sealing
Bag dimension: 22*50cm/22*75cm
Bag thickness: 0.05mm(single layer)
Bag ice weight range: 1kg to 5kg
QTY of the bag: about 300pcs
Dimension: 180*100*220mm
Features:
1. Stainless steel 304 for the water tank and powder-coated steel for the machine body;
2. Waterproof steel cabinet, safety, tidy and healthy;
3. Coin-operated, induction IC card, bill acceptor for payment system;
4. With digital vend counter to record the vending situation;
5. Use efficient spray ice film to make ice, pack the ice in the bag and seal the bag.