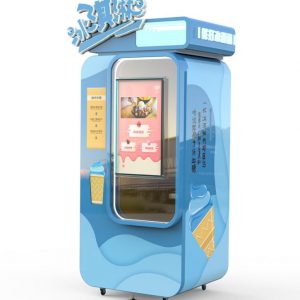 Body material: sheet metal
Food Placement Material: 304 stainless steel, food grade PP, food grade silicone hose
Screen size: 32-inch touch screen
Weight: 320kg
Size: 1950*2200*880mm
Quilt capacity: 100
Milk slurry capacity: 15L (storage tank) + 2.2L (evaporation cylinder)
Compressor: Embraco
Reducer: worm gear
Puffing pump: high expansion rate, suitable for the development of proprietary patents for intelligent unmanned ice cream machines
Evaporative cylinder cleaning: automatic cleaning function
Storage tank pre-cooling system: pre-cooling and fresh-keeping function
Motor: frequency conversion 0.75 kW
Drop cup detection: empty cup detection
Energy saving mode: night mode, self-starting
Features:
1. Italy imported Embraco compressor has a good cooling effect, forming a cup for several hundred cups in succession;
2. Worm gear, ice cream produced stable quality, stable work efficiency;
3. Variable frequency 0.75 kW, high power, better use, energy saving, buffer start protection of the core components of the machine, long life;
4. Puffing pump, suitable for the development of its own patents for intelligent unmanned ice cream machines;
5. Background function, multi-dimensional data statistics, analysis remote switch machine reset; lack of cup, lack of material, fault message push. Night operation mode reduces operating costs, reduces unnecessary operational losses, and improves operational efficiency.