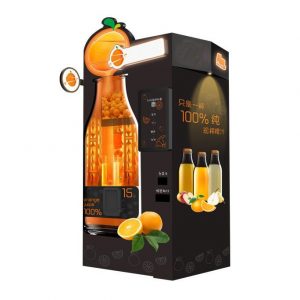 Product size: 1120*1050*2120mm
Weight: 500kg
Rated power: 1000W
Refrigerated temperature: 5-10 ° C
Single cup juice time: about 40s
Paper cup capacity: 350ml
Suitable for venues: office buildings, airports, shopping malls, attractions, schools, etc.
Features:
1. Adopt advanced fruit fresh-squeezing technology, 100% no added, fully retain the original nutrients of fruits, and add vitamin C at any time, which is in line with the concept of healthy and fresh, and is more popular among young people. a new trend;
2. With large and low-temperature storage bins, the average storage temperature of raw materials is 3-5 °C and the freshness of self-test every 12 hours. You can check the remaining raw materials through the system to ensure the original sweetness of the oranges and the fresh and juicy taste when eating.
3. Covering an area of ​​only 1.2 square meters, eliminating the cost of shop rentals, not subject to restrictions, multi-scenario sales;
4.24 hours unattended system, real-time monitoring of machine health, remote viewing of material allowance, sales data updated in real time; operation and maintenance data can be monitored, remote temperature control mode to adjust food storage temperature;
5. Adopt full self-service cash register management, use touch screen operation, support multi-port payment;
6. Buy orange juice, see the whole process, increase user experience, drink more assured;
7. Internal automatic cleaning system, safe and hygienic, saving time and effort.