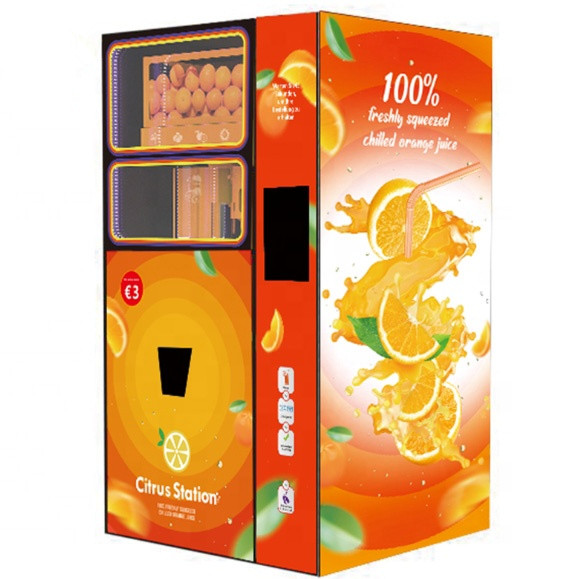 Size: 1050*875*2030mm (L/W/H)
Cover area: 0.92 square meter
Material: Iron + Stainless steel
Max power: 1100W
Standby power: 150W
Voltage input: 100V~130V / 170V~240V
Storage of Orange: 70kg
Working temperature: 0~40 degree
Inside temperature: 2~10 degree adjustable
One serving: 70 cups
Suitable Orange Size: 60~80mm
Squeezed time: 35s~45s
Resolution radio: 1280*800
Juice rate: 50%
Internet: G all netcom, wifi, internet cable directly
Payment way: alipay, wechat, vip card, cash
Net weight: 380kg
Gross weight: 420kg
Package: Standard export wooden box
Features:
1.Squeeze Juice from whole orange,10% higher juicing rate than others,good taste,free of peel.
2.All the raw materials meet international foof standards requirement.
3.Remote monitoring App which can check the stated of whole machine(sales record,surplus of orangeand cups, alerts,maintain etc.)
4.DC motor driving, easy to change to voltage for different countries.
5.Modular electrical structure is easy to dismantle and cleaning.
6.Auto finished juicing process, cover and cup dispensing, deliver the juice to picking up port.
7. Refrigeration system run separately.