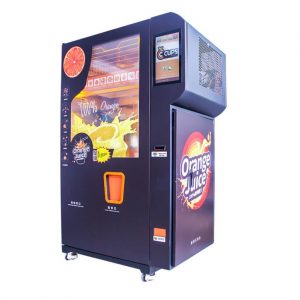 Size: 1400*860*200mm
Weight: 450kg
Average / peak power: 300W / 2000W
Voltage: 220V
Power consumption: 10KW*H/24H
Colour: Black
Extrusion speed: 60S
Power cord length: 4.5M
Cleaning frequency: once a day
Features:
1. All-steel structure, the thickness of the steel plate is up to 1.5mm, it can resist a strong impact and the fuselage is stronger;
2. Explosion-proof anti-mite tempered glass, easy to resist violent dismantling;
3. Imported brand coin banknotes with high precision, anti-theft, and anti-pulse interference;
4. Touch the color screen to make shopping and payment more intuitive;
5. Intelligent cloud platform, data remote management;
6. Refrigeration module, commercial refrigeration compressor, good cooling effect;
7. Large-capacity cartridge, no need to feed frequently;
8. The heat dissipation window, the heat generated by the operation, is dissipated through the radiator, reducing the engine temperature and increasing the service life.