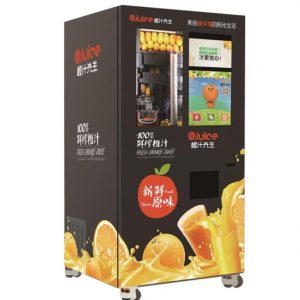 Size: 1900*870*950mm
Display frequency size: 27 inches
Maximum power: 1000W
Rated power: 350W
Power supply: 220V, 50Hz
Juice Cup: Full load can be squeezed around 50-60 cups
Store oranges: full of about 65kg of oranges
Weight: 350kg
Temperature: The ground temperature can be adjusted to about 5 °C
Self-cleaning system: comes with an intelligent cleaning system and automatic ozone sterilization device
Features:
1. Separation technology of skin and meat to ensure the taste of orange juice and food hygiene and safety;
1) After the boot, the orange slides into the squeeze juice bucket;
2) Cut the orange into two halves;
3) The peel is automatically slid into a plastic container for easy cleaning;
4) Separate the pulp separately and complete the separation.
2. Online intelligent automatic cleaning system, timing, fixed point, fixed cup three modes to ensure product health and safety;
3. Internally installed ozone disinfection system, self-contained ozone generator, computer control, disinfection at any time to ensure the safety and health of the entire machine;
4. With a 4G module, with the SIM card to achieve external communication function through RS232, GSM, 4G interface channel. Intelligent monitoring of the whole process of the equipment, automatic alarm when the machine fails, the equipment components can be remotely controlled, and the machine fault is eliminated in the first time, thus ensuring the consumer's consumption experience;
5. The juice is completely sealed and sealed by sealing film, which effectively isolates air oxidation, prevents secondary pollution of pressed juice, and ensures safe and hygienic drinks.