When vending machines are replenished, they need to carefully arrange the location according to the specific characteristics of the goods. This allows the Fujian vending machine to display the most products, and also enhance the consumer's shopping experience and reduce the operator's losses.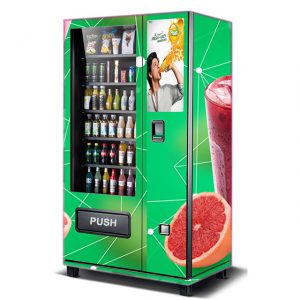 1. Different size goods should be placed in the cargo path of different specifications, if you do not know what position to put the goods, we can use the ruler to measure the diameter and pitch of the spring, and then compare the size of the product (this method is suitable There is a fixed packaging), in fact, the most direct way is to put the goods on the spring cargo road to experience it, neither the card is too tight and will not fall out of the spring center of the space, it is appropriate.
2. The beverages packed in Tetra Pak and cans should be placed on the cargo track with the flat-bottom track to reduce the cargo rate. When the goods travel in the cargo plane, the frictional resistance is more likely to be stuck than the plastic bottle, and the flat-bottom track can effectively reduce the occurrence of the cargo phenomenon.
3. The inflated beverages sold (that is, carbonated beverages filled with carbon dioxide) should be placed on the vending machine cargo lane where the position is relatively low. Otherwise, if the beverage falls and the customer opens the beverage, it may be ejected, which will not only increase the operator. The loss also affects the customer's buying experience.
4. When the bottled beverage is released, place the cap as far as possible, which can effectively solve the embarrassing situation that the bottle does not fall after landing.
5. Vending machines with flat-bottomed tracks should be as low as possible for flat goods.
6. The same spring cargo lane should be placed in the same kind of goods. It is best to fill each time the goods are delivered. If it is not full, the innermost position should be empty. There should be no space at the front end of the spring freight lane.
7. When the vending machine is placed, the upper end of the product must not be tilted outwards (can stand or tilt inward), which can effectively reduce the occurrence of the jam due to the topping of the product.