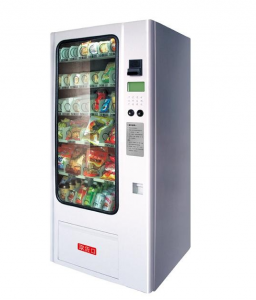 Drink vending machine and auxiliary machine can accommodate 576 bottled or canned drinks.
Can sell bottled drinks, canned drinks, boxed food bags, all kinds of crafts, sex toys, all kinds of big-ticket items like.
The standard 19 inches high definition touch screen, Android system control, timely generates a separate Item QR code, support micro-channel payment, Alipay, cash payment, the change, the clouds online remote management.
A host can control eight auxiliary machine, saving investment.
All independent design, free combination of drink vending machines, grid vending machines, sex toys vending machines, vending machines and other crafts, What you want to sell goods on a combination of what type.
Refrigeration system uses low-power, high efficiency imported compressor refrigeration, environmentally friendly refrigerant, reduce the cost.
The structure design with extra thick insulation, High quality thermal insulation material.
A combination of different models in different places, and fully meet the community, airports, railway stations, schools, factories, commercial areas and other public places self-service selling demand.