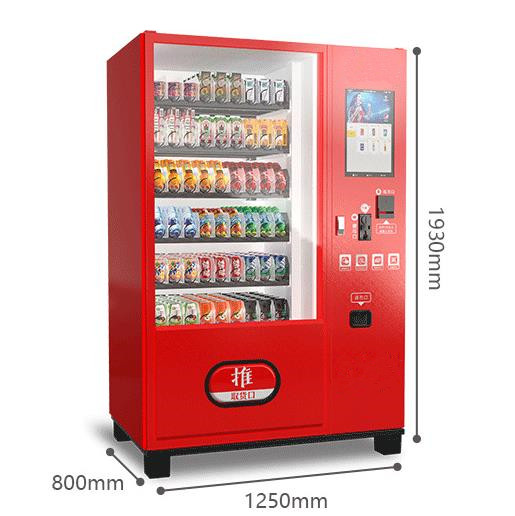 Dimensions: 1930*1250*800mm
Weight: 250kg (normal temperature) / 350kg (refrigeration)
Conventional freight lane: 6 floors, 9 cargo lanes per floor, a total of 54 freight lanes
Temperature control mode: refrigerated, can be at room temperature
Commodity stock: 800 pieces
Temperature setting: 3-25 ° C
Payment method: coin, scan code payment
Power: 380W
Network mode: WiFi wireless connection, wired broadband connection / 4G traffic card networking
Goods: Beverages, snacks, cigarettes, daily necessities
Features:
1. Intelligent motherboard, the software runs stable, making management and consumption more efficient;
2. Create a U-shaped cargo lane, greatly reduce the cargo rate, and reduce the after-sales cost to the freezing point;
3. Electric heating hollow double-layer tempered window glass, waterproof fog, transparent and clear, tough insurance;
4. Broken cold bridge + whole machine foaming + top door device, which isolates the temperature of the warehouse and the outside and the host, so that the whole machine runs stably in all seasons;
5. The core hardware adopts imported compressor, which has low energy consumption and strong refrigeration;
6. Remote temperature control to meet the needs of remote monitoring equipment temperature;
7. Remote shipment, the card goods do not need on-site processing, one-button remote shipment processing customer complaints;
8. Accurate data can only be analyzed, and slow-moving products and best-selling products are clear at a glance;
9. Fault reminder, no need to manually watch, monitor the running status of the machine at any time;
10. Automatically produce the distribution order according to the stock situation, no need to record by hand.