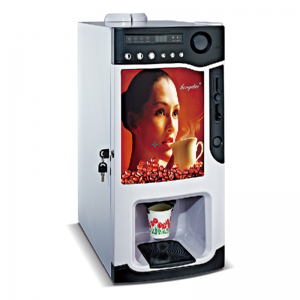 Type: Coin
Power: 820W
Voltage: 220V/50Hz
Material Bucket: 1600ml x 3
Hot Water Bucket: 1.6L
Water-Supply Bucket: 2.7L
Net Weight: 17KG
Gross Weight: 20KG
Warranty: 1 Year
Size: 300*480*630mm
Power: 820W
Production: 150 cups
Instant coffee vending maker is also named the coffee machine, vending coffee machine, coffee vending machine, coffee maker, instant coffee maker, coffee vending maker and vending coffee maker. With the fashionable appearance design, the coffee machine is suitable for any palce. And with its one touch operation, the use is very easily. Coffee, milk tea and juice could meet the most taste of customes.