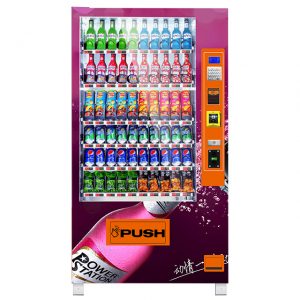 Payment system: coin, card payment, QR code, token
Power: 350W
Vended products: 6 trays with max 56 selections
Products capacity: 240-600 pcs
Weight: 280kg
Power: AC 100-240V, 50/60Hz
Cooling temperature: 3℃-25℃(can be adjusted)
Interface: MDB
Color: OEM
Main features:
1. Large capacity. Narrow border large glass windows, LED lighting, luxury, merchandise display and intuitive.
2. Machine reserve expansion can be combined into a vending machine at any large capacity.
3. Use of international standards designed to MDB, DEX in line with international standards, can support a variety of international standard peripherals.
4. Can receive notes, coins, and coin change function. Customizable banknote change.
5. Customizable IC card shipments, shipments Alipay, acoustic control shipments, CUP flash pay, payphone shipments dimensional code, mobile payment, credit card or other payment methods. The machine supports 232 serial control computer. Bank card function, customized virtual payment capabilities.
6. Can sell a variety of snack foods and frozen canned, bottled, boxed, bagged and other beverages, applicable to a wide range of merchandise.
7. Microcomputer control system with intelligent data query, statistics, accounting, fault diagnosis, and other management functions.
8. Merchandise aisles size can change at any time, flexibility to adapt to all kinds of goods of different sizes;
9. Temperature stratification. Pallets may need to set the temperature stratification according to the customer.
10. Modular refrigeration system, easy to maintain;
11. CFC-free refrigeration system using R134a refrigerant, in line with international environmental protection requirements;
12. Standard shipping grating detection system.
13. Internal temperature with a digital display. Refrigeration temperature can be set.
14. Leakage protection.
15. Powerful cloud service management platform can be found anywhere Each vending machine sales information, operating status over the network.