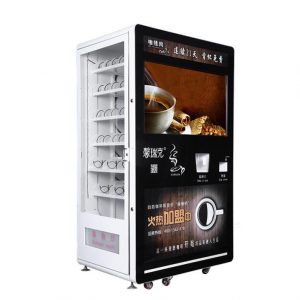 Size: 1060*800*2020mm
Type of drink: support an instant / fresh grinding variety
Water supply method: pumping water/drinking water directly
Screen size: 43-inch touch screen
Function: heating, cooling, room temperature
Suitable place: cinema, hospital, internet cafe, car 4S shop, etc.
Features:
1. A variety of drinks (latte, mocha, American coffee, cappuccino, Macchiato, etc.) can be selected, the extraction rate is strictly controlled between 10%-22%, avoiding excessive caffeine;
2. Support cloud service management platform, query each vending machine through the network anytime, anywhere, sales confidence, operating status, fault alarm, etc.;
3. Standard optical storage inspection system, from two aspects to solve the problem of spring spiral cargo lane jam (software added a series of detection and shipping mechanism, such as payment success, the software does not receive motor rotation feedback, the software will Drive again; the optical inspection board for infrared detection is added to the hardware. If the payment is successful, the infrared light inspection board does not detect the goods, then the automatic refund is given to the user);
4. The cup is connected to the basin, the basin is easy to clean, scientific and convenient, and the cup can be used continuously;
5. Exhaust and moisture-proof heating system can keep the air inside the machine dry and fresh for a long time, ensuring that the raw materials do not solidify and agglomerate;
6.43-inch touch screen display screen can effectively increase the advertising interactivity;
7. Two USB ports are installed on the side of the fuselage for emergency use of the customer's mobile phone.