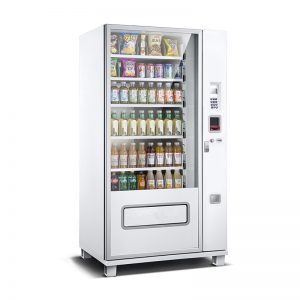 Dimension: 1900*1030*750(mm) (H*W*D)
Weight: 275kg
Body Color: OEM
Payment system protocol: MDB
Merchandise: Snacks & food,Beverages & dairy,Grocery
Delivery: Spiral
Max selections of tray:9
Max trays: 6
Max selections of showcase:54
Internal temperature:Top 12°C~18°C,Bottom 3°C~14°C
Power: 500W, AC 110V-220V, 50/60HZ
Easy to be configured, convenient to use: Prominent controller board and Keypad with LED light buttons, more smart & efficient
Bright showcase:
1.LED lighting system, arrestive, vivid and energy-saving
2.Glass Heater embedded on glass to prevent condensing of moisture.
Paying in cash & cashless:
1. Comply with MDB payment system protocol
2. Bank note, Coin, Debit and Credit card,
3. Smart card, NFC, QR code and Bar code, etc.
Variety of merchandise in large capacity:
1. Diversified packages
2. Can, Bottle, Box, Bag, Bar, etc.
3. Variety of spiral options and adjustable tray height go with merchandise
4. Guide rail for cans to facilitate cans delivery.
5. Max 9 selections per tray
6. Max 6 trays
7. Max expandable to 54 selections
Stratified temperature control:
1. Top 3 trays (A/B/C trays) range between 12°C~18°C .
2. Bottom 3 trays (D/E/F trays) range between 3°C~14°C
Maintain with ease:
1. Self-Diagnostics to inform in time, keep worriless vending.
2. Modularized Refrigeration System,easy to maintain, repair and replace.
3. Optimized merchandise trays, be drawn out at 45/90 degrees for easy loading and maintenance of spiral and driver.
Robust & Smart body:
1.Tempered double-pane glass full of argon gas for accident and thermal insulation.
2. Pickup box with separator to merchandise case.
3. Rigid steel body with overall foam, further efficient to keep temperature.
4. Customize painting or sticker of body, attractive looks that is loved by consumers.
Environmentally friendly:
1. Refrigerator with R-134a instead of CFC.
2. Low air noise.
3. Computer-monitored temperature regulation system per surroundings temperature, energy-saving.
Telemetry system:
1. 24/7 wireless monitoring vending machines at office or home with ease.
2. Record status, sales and inventory.
3. Analyze merchandise and potentials.
4. Keep never run out of stock and prevail!