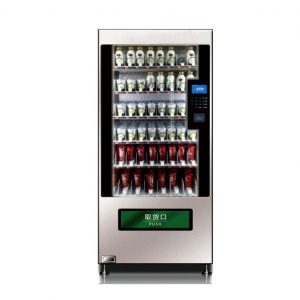 Size: 1970*840*860mm
Weight: 220g
Stock quantity: 300-600
Voltage: 550W (cold) / 600W (heat) 220V 50Hz
Payment method: coin, banknote, credit card, etc.
Selling products: various drinks, milk, etc.;
Suitable for venues: office buildings, hospitals, schools, hotels, etc.
Refrigeration system: compressor
Features:
1. Temperature controllable system, according to the season, can be cooled, heated, constant temperature, and can be adjusted at will;
2. The refrigeration system adopts R134A refrigerant, which is environmentally friendly, stable in operation, good in refrigeration effect and long in service life;
3. A variety of ways to pay, electronic payment is easy and convenient, banknote coin intelligent identification, smooth acceptance of authenticity, payment is correct, full-featured;
4. Independent intelligent motherboard, stable and durable, multi-functional, multiple guarantees;
5. Powerful cloud service background to realize mobile phone APP and computer synchronization operation;
6. The chassis adopts polyurethane integral foaming technology to make it more heat-insulating and energy-saving;
7. The system is modular, can be disassembled independently, and the maintenance is convenient. The whole machine has no tool maintenance design, and the module is replaced and replaced.
8. The optical shipment detection system, the goods do not go through the pick-up port, and will not deduct user fees;
9. The cloud platform supports a series of management and control such as data query, statistics, and accounting.