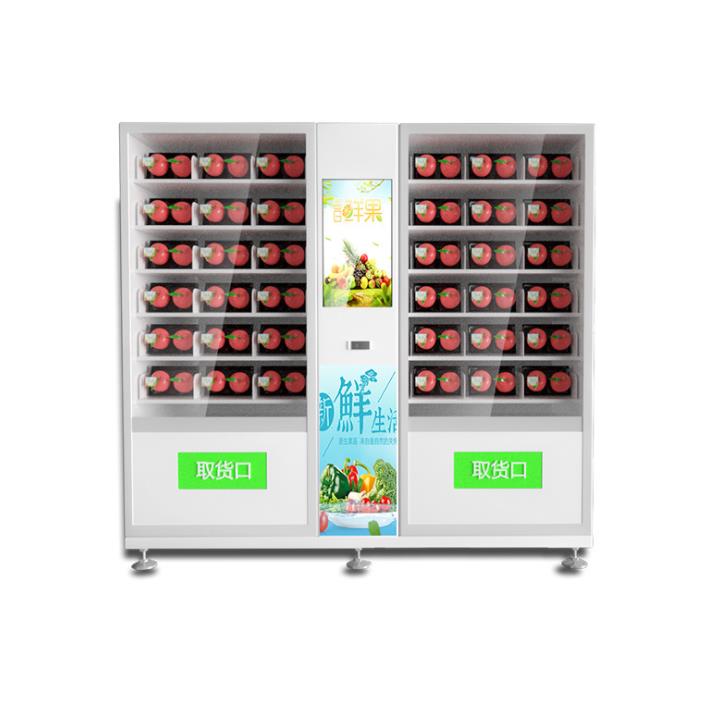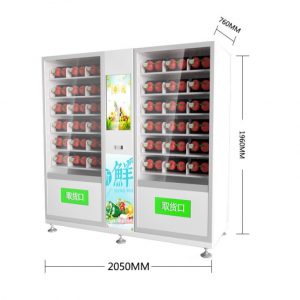 Craft material: sheet metal one
Appearance size: 760*2050*1925mm
Commodity reserves: 50-150 items (depending on the size of the product)
Product category: vegetables, fruits
Weight: 283.9kg
Shipping method: crawler type shipping
Standard interface: MDB, DEX
Applicable scenarios: community, residential areas, etc.
Voltage: 500W
Display screen: 21.5-inch touch screen
Temperature: 0°C-25°C (adjustable)
Features:
1. The front door window is equipped with large-area double-layer tempered glass, anti-condensation heating device, LED lighting, luxury and high-grade, and the product display is intuitive;
2. Standard 21.5-inch Android industrial control machine, with the latest ANDROID5.1 operating system, a rich peripheral interface, strong human-computer interaction interface, application APP can customize product images, compatible with audio and video advertising, slide ads, etc. Advertising form;
3. It can sell a variety of department store goods at the same time, with wide application range and high economic efficiency;
4. Tracked shipments are more stable and do not bear cargo;
5. Support powerful cloud service management platform, and query the sales information, operation status and fault alarm of each vending machine through the network anytime and anywhere;
6. The microcomputer control system has local management functions such as intelligent data query, statistics, accounting, and fault self-diagnosis;
7. The refrigeration system adopts R134A refrigerant, which meets the international green environmental protection requirements, and the refrigerating temperature can be set by itself;
8. There is a power-down protection function, there is memory function;
9. Leakage protection function;
10. High-pressure foaming box body, thick foam insulation layer, thicker insulation, more energy saving;
11. Airframe material: all steel structure, sturdy and durable.