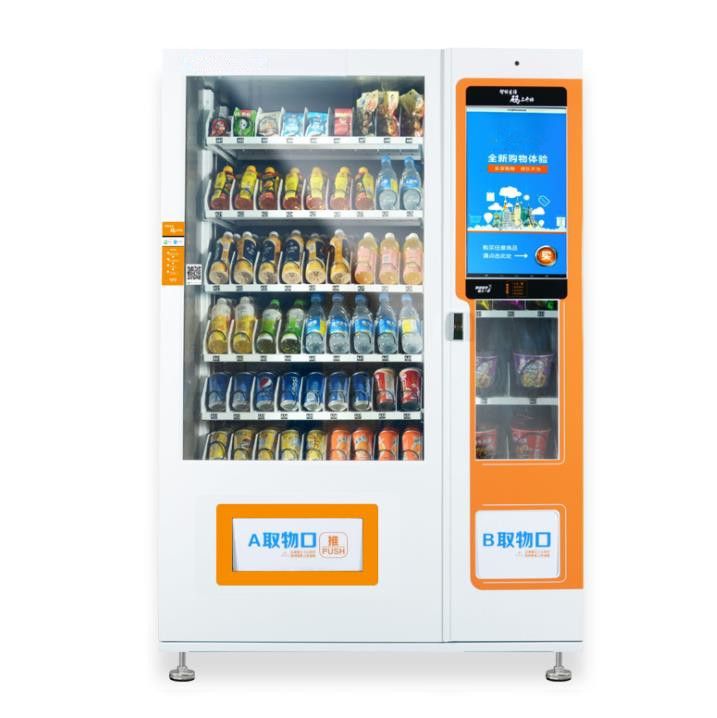 Mode of operation: 22-inch high-sensitivity high-definition capacitive touch screen
Machine combination: refrigeration main cabinet + room temperature cabinet
Cargo road design: freezer 6 layers of 54 cargo lanes; 5 cabinets with 15 cargo lanes
Available items: snacks, drinks, etc.
Refrigeration system: 2-20 ° C adjustable, compressor – Embraco
Machine power consumption: 0.05-0.65 kW / hour
Net weight of the whole machine: 360kg
Storage: drawer spring freight lane
Product capacity: 350-1300
Dimensions: 1280*830*1930mm
Glassdoor cabinet: double tempered glass insulation, outer 24V electric heating defogging
Working voltage: AC (AC) 220V 50Hz
Processor: High-performance Android computer
Features:
1. One machine and two shopping cabinets design, reaching 69 freight lanes, the maximum sales volume is more than 1,300;
2. 22-inch industrial grade high sensitivity HD capacitive touch screen for customer shopping operations and advertising;
3. Recycling delivery channel, accurate shipping, convenient replenishment, no card;
4. Compound security anti-theft lock, your comfort is my mission;
5. Henggu universal wheel, super wear-resistant, promote labor-saving;
6. Light and fast to pick up the goods, not as dusty, light, anti-theft;
7. Stabilize the pulley to make up the shelf, with strong carrying capacity and easy replenishment;
8. Embraco compressor, environmental protection, low energy consumption, stable operation, quiet, long service life, and good cooling effect.