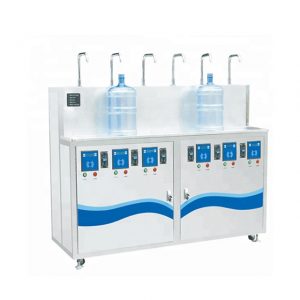 Voltage: AC 220V 50Hz/AC 110V 60Hz
Total power: 1600W/2300W/2600W/2800W
Filtration steps: Booster pump-Sand filter-Carbon filter-10uPP-5uPP-RO booster pump-RO membrance-Post carbon-Mineralization-UV-Ozone
UV power: 30W
Pure water capacity: 200L/H,300L/H,400L/H,472L/H
Ozone: 12g/H
Production speed: 30B/H,5 gallon bottle
Tank capacity: 220L
Air pressure:0.6-0.7MPa
Machine dimension:W195cm*D102cm*H169cm
Payment system: Coin/IC card
Feature:
1. Waterproof carbon steel cabinets, the front door open design, safety and health , durable and easy installation.
2. Advanced RO purification techniques, nine levels effective water treatment, the water quality accord with the national standards.
3. Intelligent coin and induction IC card self-service techniques, billing accuracy of 0.01 Yuan.
4. Airtight filling + High concentrations of ozone sterilization, eliminate the secondary pollution completely
5. 24-hour uninterrupted UV sterilization, guarantee the water quality.
6. Filling room has the light, so the user can cheek any impurities in the water directly.
7. Light box and light inspection can be controlled by the photosensitive save the electricity costs
8. The powerful pretreatment, also it can do the backwash for the filters to reduce the cost.