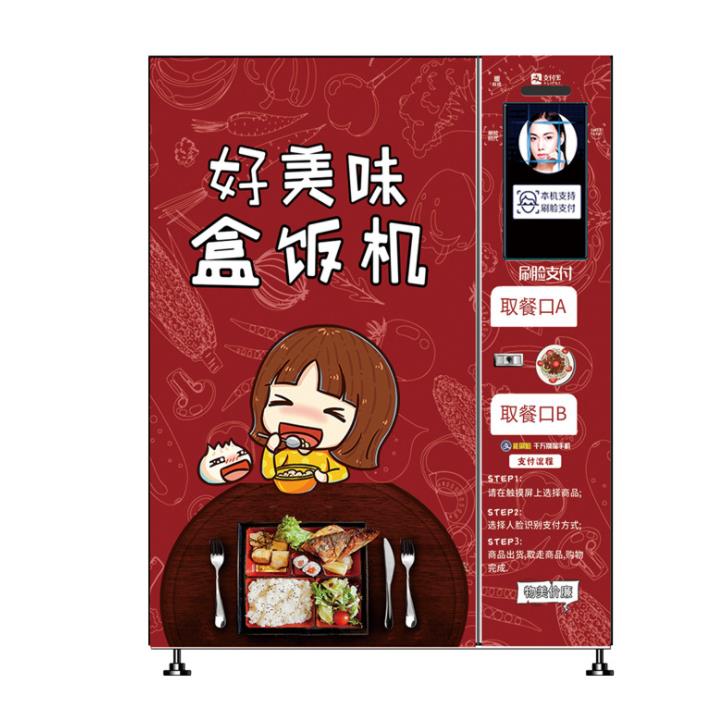 Size: 1970*960*1570mm
Weight: 300kg
Function: heating, cooling
Commodity reserves: 60-100 boxes
Shipping method: tracked and lifted
Shipment detection: reflective photoelectric detection
Refrigeration System: Compressor – Embraco
Features:
1. Intelligent storage and preservation, with independent ozone anti-virus module;
2. The machine has fast heating speed and high efficiency, which is three times that of ordinary microwave ovens. There are two 600W magnetrons in a single microwave oven and four 600W magnetrons in a double microwave oven.
3. Packing rice heating time: the boxed rice is heated from 0 °C to 4 °C to the mouthfeel temperature of 65 °C and above, requiring 90s;
4. Two microwave ovens, two delivery ports, can heat two boxes of rice at the same time, or only open a microwave oven;
5. The goods freight lane can be flexibly adjusted according to the size of the product, and the whole shipping process of the box lunch is adjusted according to the season (heating time 90s, total process 125s; heating time 60s, total process 100s);
6. The system is modular, can be disassembled independently, and the maintenance is convenient. The whole machine has no tool maintenance design, and the module is replaced and replaced.
7. Large-screen playback of advertisements, selection of goods, etc., can expand paper coins, credit card, and other functions;
8. Have leakage protection function;
9. The cloud platform supports a series of management and control such as data query, statistics, and accounting;
10. The photoelectric shipment detection system, the shipment status is reported to the background in real time, the shipment fails, the fee is immediately returned, and the user fee is not deducted.