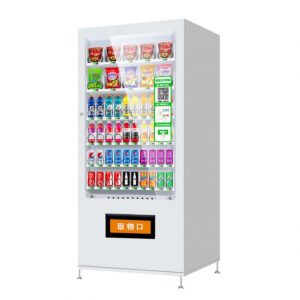 Product cargo lane: 6 layers 10 cargo lanes per floor
Size: 1938*895*897mm
Product capacity: about 300 drinks
Rated voltage: AC220/50Hz
Working environment: high temperature 40 ° C low temperature -20 ° C
Shipping speed: <5 seconds
Shipping method: drawer pallet, spring cargo lane, push in and out
Features:
1. Powerful cloud service platform, cloud service background realizes the synchronous operation of mobile phone and PC, account and replenishment are simple and clear, super stable, low failure rate, carrying one million orders for one day;
2. High with Android motherboard, dual-core 16G, smooth and stable operation, high-strength adaptability, the stable shipment of 300,000 times, fully automatic real-time temperature control;
3. Using high-quality original accessories, the machine is reasonably optimized and configured, high performance and precise configuration to ensure the daily stable operation of the intelligent vending machine;
4. Infrared detection, anti-theft access, infrared radiation detection, secondary inspection guarantee;
5. The size of the cargo lane can be customized and adjusted according to the requirements of the goods;
6. Closed compressor, safer, neat and tidy, easy to clean;
7. Mobile shelves, shelves are detachable, convenient for replenishment and cleaning;
8. High-quality materials for high-quality machines, sturdy and durable;
9. High-grade Fuma wheel, quiet and wearable, easy to move, adjust the level, can be positioned and shockproof.